Why "Harriet" Is Epic Story Telling
https://coreyevanleak.com/wp-content/uploads/2019/11/harriet.jpg
737
491
Corey Leak
https://secure.gravatar.com/avatar/89fc51014cf8bb7b879d1b184bc0e2b5?s=96&d=mm&r=g
Last week my family and I went and saw the movie, Harriet. I LOVED it. But, I was surprised to learn how many black people felt some kind of way about the movie. I walked out of the theater convinced that black folks would almost universally love that film. The story features a black screenwriter, a black director, and black leading actors. How could anyone not like it?
After leaving the theater, I saw black folks on twitter talking about how historically inaccurate it was as well as people griping that it featured too many white saviors. But the critique I've heard most prevalently is the complaint about the movie presenting a black bounty hunter who helps round up runaway slaves.
I understand the criticism, and I know that there is a distrust of Hollywood when it comes to getting black stories right, but there are three tactics that Harriet used to tell this story that I believe are incredibly compelling. They are why I spent half the film with tears in my eyes, and why we all clapped when it was over.
History
Harriet undertakes the monumental task of telling the story of a beloved historical figure for the black community. I consider it a win anytime I can watch a giant screen that's featuring the images of black women doing iconic things with my daughters – especially if that story is about a historical figure like Harriet Tubman. 
The film is set in an actual place and time in American history. It doesn't do a deep dive into the horror of slavery visually, but I like that. I felt like the focus of the movie was on the heroic actions of Harriet. We have seen plenty of movies that show the graphic horrors of slavery like 12 Years a Slave, Amistad, and even Django Unchained, to name a few. The use of slavery as a contextual background for Minty's epic speeches and actions in the film served this particular story very well. 
Legend
Documentaries are supposed to be strictly based on verifiable historical facts, but great storytelling utilizes more than facts to get the message across. Great stories, the stories we remember and tell other people about emphatically, use legend.
The tall tales of our heroes – the epic tall tales that we repeat to each other over and over are all stories of legend. They aren't meant to be factual. They are just meant to help us understand the character, challenges, and ultimate victories of our heroes.
Legend is also what gave a lot of people tension about this movie. The criticism I've seen universally of the film is that it's historically inaccurate. People were up in arms about the use of a black bounty hunter and other characters that were made up to serve the story. I chalked those things up to legend. They could be the offspring of stories told about Harriet by people who never met her and didn't know her, but to them, she was larger than life.
When was the last time you heard a great fishing story that used the actual weight and length of the fish the fishermen caught?
Myth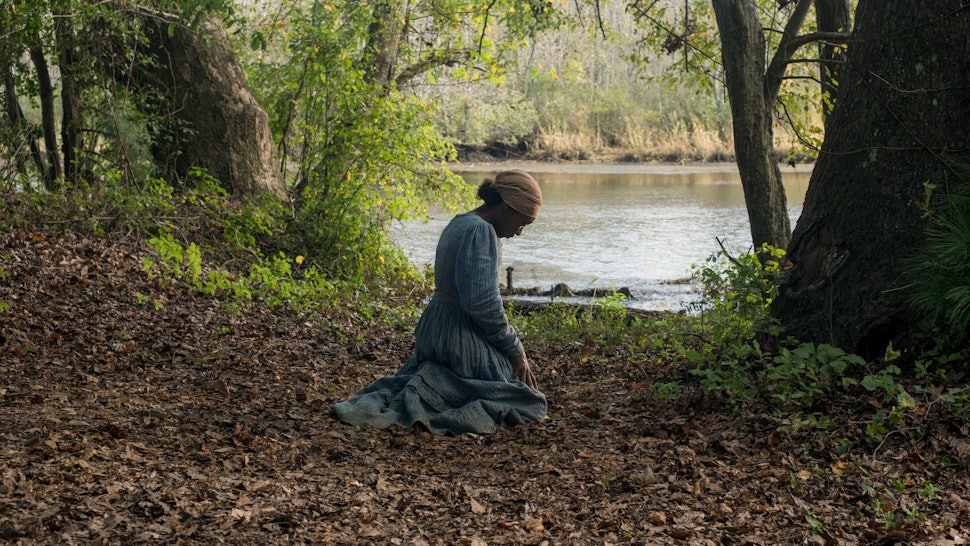 While the use of legend will make a two-foot, seven-pound fish ten feet and seven hundred pounds, myth makes that fish a sea monster that has terrorized the sea for thousands of years. Harriet uses myth to move the story forward by overdramatizing her visions. 
It is legend that she prayed and God gave her visions of the future. It's myth that she was alerted to danger like Peter Parker when the Green Goblin is near. Still, the use of mystical power and supernatural imagination served to give the audience an image of Harriet Tubman that centered her as the iconic hero she is.
I don't intend to minimize anyone's feelings or objections to the movie. As I said, I loved it. And again, the movie's screenwriter, director, and lead actors are all black.
Criticism is fair game for any content put forth for public consumption, but I think it's vital that black folks are less bullish on publically tearing down our own stories.